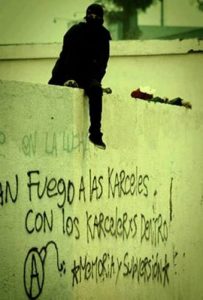 via AMW English
From the high security jail of Santiago de Chile I send these words of greeting to all who meet today in Villa Francia to share visions and experiences around the political prison.
The jail that I live in today is the same one that has taken more than 20 years of my life.
I arrived here at the age of 21, transferred from the former penitentiary at its inauguration on February 20, 1994, leading me in 2004 with the anti-jail fight started with Kamina Libre in 1996.
The KAS was then used to imprison and annihilate the military political subversion of the left. Rodríguistas, Miristas and Mapucistas lautarinos [members of MAPU-Lautaro, an armed left-wing group] were recipients of the perverse dirty war of the government of Aylwin and Frei that managed to defeat the armed projects embodied in the FPMR, the different MIR and the Mapu-Lautaro.
There were many factors that caused this defeat and the prisoners of that generation began to leave after a decade of confinement, one of the toughest in Chilean carceral history.
The composition of social reality was severely transformed by the State and the Capital in the process of bourgeois remaking, thus transforming paradigms, ideas, practices and tensions.
It was in the second half of the '90s that the subversive reality began to change definitely as well as the ideas of forces that serve as references and guides for action. Continue reading